Learn More About Lockaway Storage
Meet the Manager
At Boise Lockaway Storage, our mission is to earn your business by providing you fantastic customer service and making your rental experience the best it can be. Our managers take the time to get to know you and don't be surprised when they remember you by name!
Here is just a little bit about our property manager, Brue Williams. And remember, if you have self-storage, packing or moving questions, he'll be happy to answer your questions.
Bruce Williams – Property Manager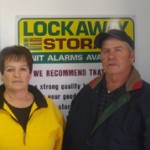 Bruce Williams first started working in the storage industry in 1999 and in March of 2008, started at Lockaway Storage.
When we asked Bruce what he likes most about working at Boise Lockaway Storage, this is what he said. "My favorite part of the job at Lockaway Storage is dealing with the renters and retail store owners because we have such a nice bunch of renters. I look forward to going to work everyday! I love my job!!"
Our self storage manager sees some unique and "interesting" stuff stored in the spaces. One manager reported an airplane; another has seen several classic cars. When we asked Bruce, he shared a couple of stories. The most interesting thing he's ever seen in one of the storage spaces is a lady who stored her step father's ashes…now that's got to be a first!
Bruce enjoys the beautiful outdoors that Idaho has to offer. On his days off, you'll find him camping, fishing and a kicking up some sand in his sand rail!